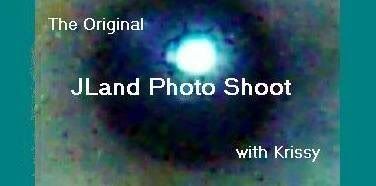 From Krissy at; http://journals.aol.com/fisherkristina/SometimesIThink/
This week's JLand Photo Shoot will begin today (Monday) and will be due on Saturday, Feb. 9, at 11 PM EST. That's Saturday, almost midnight, an hour before Sunday, for those of you who are getting confused.
Our subject this week is:
My Pet
************************************************************
Anyone who has read my journal for any length of time knows about my one and only pet. Gabi Lin~an Exotic Shorthair .
Gabi (in Hebrew means "God Is My Strength) came to live with me on October 4, 2005. She had been picked up in August of that year on the streets of Seattle. She was in such bad shape that, after an initial exam at the shelter, she was taken to a lady who breeds and fosters Persians and Exotics. I understand when she was found, she was badly mal-nourished, her fur wasdirty and matted, she was flea infested...a real mess.
The foster mom cleaned her up, took her to the vet for shot updates, etc. and nursed her back to health. The vet figured she was about 2 years old when found. She has a small frame but weighed less than 4 pounds at that time. She now weighs 4 pounds 8 ounces and it's not because she's not feed. My vet would like to see her at about 5-1/2 pounds but that hasn't happened. She has dry food in two places in my house (at all times), loves her afternoon snacks and gets moist food twice a day.
I was working with a lady who had lost her male Exotic due to natural old age causes. She had a female Exotic (Hana) at that time that was about a year old but likes to have two cats because they are good company for each other. So the end of September 2005, she was calling around to different breeders looking for an Exotic kitten ready to go to a new home. When she called this particular foster mom, the lady didn't have any kittens but she told my friend about this little stray that she'd been caring for. Stating that she was ready to be adopted. Pictures were emailed to my friend and when I saw them, I immediately said "if you don't want her, I do."
My co-worker decided to take her. But she came to me and we went thru names and both picked Gabi. When she "took delivery" of Gabi, the foster mom gave her some feeding instructions. The vet that had been caring for Gabi wanted her to have dry food available at all times, and moist food at least twice a day. Well, my friend only feeds dry food. So when she took Gabi home, she had to feed her the moist food and try to keep Hana away, so Gabi could get the nourishment she needed to put on some weight. Well, after a few days...she came to work, totally frustrated and said "you know Linda, this just isn't working. Would you like to have Gabi ?" YES! YES! YES! I took an extra 30 minutes at lunch, went to Petsmart, got a carrier, some cat food, litter (I had a pan left from when I babysat ny son's cat) and came back to work. I was working until 5pm that day, so about 3pm my friend went home with my carrier, got Gabi and came back and sat her on my desk. That was October 4, 2005 and she's been with me every since. And that is the day I've given to her for her birthday...so in 2007 on October 4th she was 4 years old (as far as we're concerned) My friend later found a 9 week old female Exotic that has since become sister to Hana.
I wish Gabi could tell me how she got out on the streets of Seattle, she's a pure bred and not cheap if someone bought her....she has some fears. She freaks out if she's picked up. She absolutely does not like her feet touched. She has no interest in playing with cat toys and cat nip does nothing for her. So I've learned to adapt to what she wants. I feel she's had a rough time and anything she wants is ok.
She's got a sweet personality and one thingabout smooch faced cats is... that they kind of squeak rather than meow. So there's not a lot of noise coming out of that sweet, flat, little face. But believe me...she can make her wants known. She has her ways.....
I feel blessed to have her, she has been a source of joy and comfort to me that I've never felt with other cats. I've had lots of them over the years, they were all sweet tempered and I loved them all but this little gal is special.
Note; this afternoon, I gathered up her blankets, food, litter, bowls and took her to my daughter and son-in-laws house, where she will be in the care of my grand daughter while I'm away. As I drove away from the house, I couldn't help but shed some tears...I hope she doesn't think I abandoned her. However, my grand daughter has called and Gabi is doing fine. When their 15 pound cat, Madeline, came snooping...Gabi hissed at her and away she went. Then Gabi proceeded into the bathroom was eating Madeline's food. I took my baby gate, so my grand daughter can keep them separated and out of each other's food.
I'm going to miss her while I'm away..........I already do !